---
Dallas ranked #2 for African-American migration growth between 2000 and 2010.
-The Brookings Institution
Dallas also ranked #5 in the Black Enterprise 2007 10 Best Cities For African Americans
-Black Enterprise
The Dallas Metropolitan Area otherwise known as North Texas or DFW is a growing conglomerate of cities with a population of over 6.4 Million. Black Americans have been moving to the area in very large numbers over the past twenty years.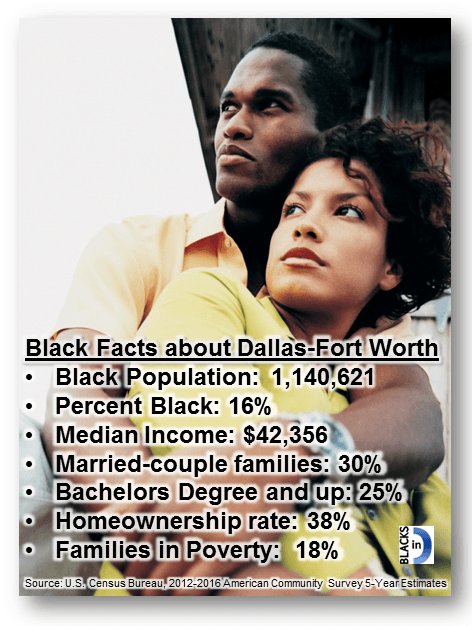 Young Black Professional Dallas
Thousands of Black college graduates are ascending on the DFW area in search of new careers and new lives. Dallas' diverse economy is attracting young graduates and professionals from all over the country. Everyday they arrive, most taking residence in the plentiful luxury apartments across the region in North Dallas, the northern suburbs, mid-cities, and the suburbs south of the city. These black professionals are poised to join the ranks of Dallas' expanding Black middle-class.
Black Middle-Class Dallas
Dallas has a large and growing Black middle-class. This is evident by the number of young Black families now enjoying home ownership in the area. Much of the Black population is educated and highly skilled. Although Dallas is not known for its Black entrepreneurship there are several thousand Black owned business and hundreds of top African American executives.
The results of this Growing Black elite can be seen in the majority Black southern Dallas suburbs as well as other areas around the Metroplex. They are building beautiful landscaped developments and demanding the best education for their children. Blacks in Dallas are developing a black Mecca of their own and are soon to change the African American community here forever.