Plano
Plano Texas is the second largest suburb in the DFW metro-plex with more than 279,000 residents (2016). Located 20 miles north of downtown Dallas, Plano is a "Super-Suburb" of sorts. Rated by Forbes.com as one of the "Top Suburbs To Live Well" and declared the wealthiest city of 2008 by the United States Census Bureau, the latest news from Forbes.com named Plano #1 on the "Safest City" list for 2010.
Plano has top schools, parks, shopping, and jobs. It is home to the headquarters of JCPenny, EDS, Frito-Lay, Alcatel, and Dr. Pepper. Also home to an award-winning public school system, it boasts three mega-high school campuses, two community college campuses, and four other institutes of higher learning. Plano has done a good job managing growth while maintaining a high quality of live. DART light rail has stations in Downtown Plano and at Parker Road, which connect commuters to job centers elsewhere in the Dallas area.With a significant and growing Asian and Hispanic middle-class population the city is becoming more diverse by the year.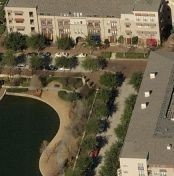 During Plano's beginnings as a small town there was always a black presence. In East Plano, just southwest of downtown Plano still exist the original Black neighborhood of small shotgun looking houses many of which are still occupied by working class African Americans. Other higher concentrations of African Americans in Plano are either north and east of downtown or farther north on the east side of central expressway between W Parker and Legacy Dr. Although these concentrations are higher, there is still no area of Plano that has a Black population of 20% or more. Most middle and upper middle class African Americans in Plano are spread out in throughout the city's central and West Plano neighborhoods and apartment complexes.
Statistics
Black population—–25,132 / 8%
Black median household income—–$58,695
Black married households—–36%
Percent of Blacks who have a bachelor's degree or higher—–43%
Percent of Black households that are homeowners—–32%
Percent of Black Families in poverty—–11%

Source: U.S. Census Bureau, 2012-2016 American Community Survey 5-Year Estimates.
Plano Independent School District
Students: 54,934 
Schools: 78 
White 51%
Asian 20%
Hispanic18%
Black 11%